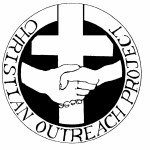 Our church's yearly mission trip with our youth happens in the early summer. We participate in the Christian Outreach Project of the Greater New Jersey United Methodist Church. For one week in June/July, teams of youth and adults from churches gather at the Camp Hoover Girl Scout Camp for a week spent in Christian fellowship providing house repairs during the day and participating in camp activities in the evening. Participants start each day with a time for reflection and prayer. After breakfast, they pack bag lunches and set out in work crews for job sites. While working on homes, many youth have the opportunity to interact and learn from their home owners. After work participants enjoy dinner provided by local churches and return to camp for evening activities, singing, and worship.
To learn more about the program click here.
2022 Trip Date: June 26th – July 2nd
Our church's group consists of youth and adults ages 14 and up, and consist of hybrid group that stays at Camp Hoover or commutes to each work site every day. For more information, please reach out to our Youth Director. Also check out the Christian Outreach Project website!
For applications for the Youth (children under 18) click here.
For applications for Adults and chaperones click here.